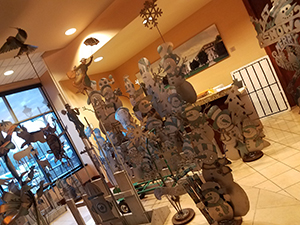 Hollow Hill Designs- Booth #545
Artisan Product Description

We are a family run business that strives to give you a great, long lasting, quality product at a low price. Everything is designed, cut, and bent by hand. We have a huge product list to choose from, including all major holidays and LOTS of year round items, and if we don't have what you are looking for we will design it for you!

Is your product handmade by you?

100% hand made by Lucas Remley!
Our products are 100% made in America. Every piece is cut & welded solely by Lucas' hands. We do not use any computers or CNC machine. We also "blue" the items to give them a beautiful 2nd color aside from the standard grey steel. Lucas pays attention to every detail, of every piece, and makes them to last.
Most of the product that we sell at the shows is made from new sheet steel, however Lucas has made several sculptures using old farm equipment, screw drivers, & garden tools just to name a few. We also use old brake rotors and disc blades as our bases for the sculptures.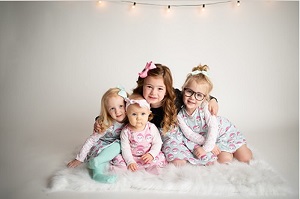 Jensy Lane- Booth #537
Artisan Product Description
For as long as I can remember I've had a passion for fashion and all things creative. I was blessed to become an aunt in 2015, for the first time, to a sweet baby girl named Jensyn Laine. I immediately found two new obsessions – Jensyn (obviously) and baby's fashion. Inspired by my perfect little muse, Jensyn, I have created what I am proud to call Jensy Lane. A boho chic children's clothing line featuring classic and wearable styles with unique fabric combinations. I take pride in hand making each and every piece and hope my creations are uniquely special to the parents and child.
Is your product handmade by you?
Yes - handmade by me
High-quality fabrics with unique prints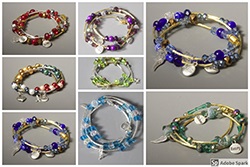 Sentiments by Natural Elements Design - Booth #535
Artisan Product Description

Angel themed jewelry and accessories that are accompanied with an original poem of the purchasers choosing.

Is your product handmade by you?

Yes
I use Swarovski, Austrian crystal and Czech fire glazed glass. Metal components include ,925 and gold filled findings.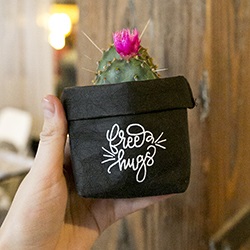 Perennity by Andrea Fox- Booth #640
Artisan Product Description
Perennity is a collection of sustainable home décor and fashion accessories. Each piece is crafted from washable paper fabric by hand with an obsessive attention to detail. All made with love, right here in Des Moines, Iowa.

Is your product handmade by you?
Andrea personally designs and handmakes all Perennity products in Des Moines, Iowa.
All Perennity products are made from a washable paper fabric. The material is a sustainable, plant-based fiber made similarly to paper with a small amount of latex added. This results in a material that washes and sees like fabric, but has the durability and texture of leather. The most popular colors in our collection have been dyed by hand using only natural, plant ingredients. This means no chemicals for you and no pollution for our planet. And we think that's pretty great.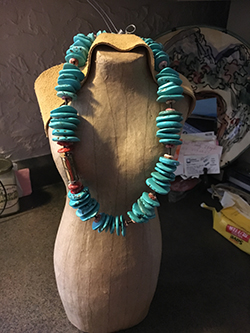 Dakota Designs- Booth #642
Artisan Product Description
A collection of handmade pieces, necklaces and bracelets made of sterling silver and turquoise. The jewelry pieces are a unique combination of turquoise and sterling silver and one of a beads. Each piece individually created.
Is Your Product handmade by you?
Each jewelry piece is handmade by myself. The materials I incorporate into my pieces are selected by myself many of which originate from an Indian Reservation in New Mexico. The beads are selected from a small specialty store in Durango Colorado.
Fontenelle Supply Co.- Booth #533
Artisan Product Description
We're a team of leatherworkers that have been in the business since 2012. We manufacture accessories for men, women, and pets, and can accommodate custom requests.
Is your product handmade by you?
Each leather product we sell is designed, cut, and sewn by us and our hands. We use traditional leather working methods that stand the test of time. From hand stitching to burnished edges, our products get better with age and will perform for generations. We use premium leather tanned in the US.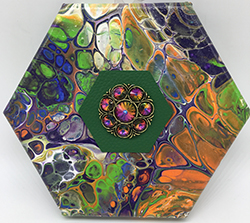 Heirlooms Made Modern- Booth #543
Artisan Product Description
I have a passion for vintage jewelry. These gorgeous little art pieces have stood the test of time and will continue to last. But your Grandma, Aunt, Mom, etc. - are rolling in their graves wanting you to get those things out of your drawers and use them! I create home displays or modernize the piece into something you would wear today. The difference in my work is that I always retain the original piece and it's functionality. The result is multi-functional piece. For example, a beautiful wall hanging for your home; with a removable brooch that can still be worn on special occasions. Or a bracelet with a brooch that can be removed and worn separately, too! I do custom orders, too, so bring your pieces and we can talk about what you would like to do with them!
Is your product handmade by you?
Yes and no. The vintage jewelry is acquired, thoroughly cleaned and tightened or glued as needed. The vast majority of these items are so solidly made that a cleaning is all they need. The handmade items are items that I make. My talented sister, Denise, does all of the artwork.
In all of my work, I maintain the original functionality of the jewelry. I want you to be able to remove the item and wear it on special occasions, or have it to pass on to your family members, in whatever way they choose to best enjoy it. This isn't my day job; luckily, I love my day job. But this is my joy-filled hobby and my stress reliever. It means so much to me when people fall in love with a piece and especially when they are able to bring their family heirlooms back to life. I sincerely appreciate the opportunity to work together with you.
Some of my items are what I call R2 (repurposed squared). The vintage jewelry is being repurposed, but I've also used a re-purposed item to create the new piece. For example, vintage leather belt, vintage crocheted pot holder, or even re-purposed home décor.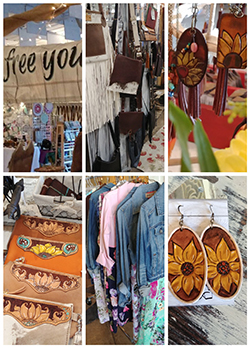 Boot Gypsy - Booth #527
Artisan Product Description
Boot Gypsy is a handcrafted boutique. We make leather hand bags, wallets, journals, wristlets, earrings and other adorable items such as,funky denim jackets and jeans that are a Great addition to any wardrobe. Everything we make is one of a kind originals.
Is your product handmade by you?
We make everything ourselves. We take raw product such as leather or repurposed old clothing and turn it into something brand new!
Because we make everything by hand and love creating new items all the time, you will get a beautiful addition to your wardrobe, handbags or jewelry box that no one else has. We love creating special new items for you to enjoy.
Our leather creations are cut, carved and even dyed by hand. All of our clothing is made from recycled denim and other fabrics.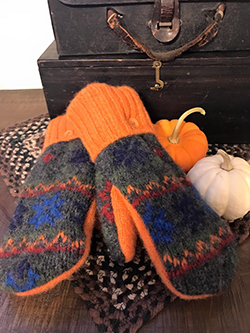 Lucky Me Mercantile- Booth #531
Artisan Product Description
I make a number of things from repurposed sweaters, sweatshirts, T-shirts and flannel shirts. Mittens, tote bags, headbands, blankets and other items. Adding linings from new fleece or other raw materials.
Is your product handmade by you?
Handmade by me
I pay attention to the colors, putting coordinated colors together to make appealing yet durable products. I focus on the quality by incorporating new fleece and taking my time to make sure the product is constructed properly.
recycled materials are why I stated doing this in the first place. I wanted to reuse items that were being discarded.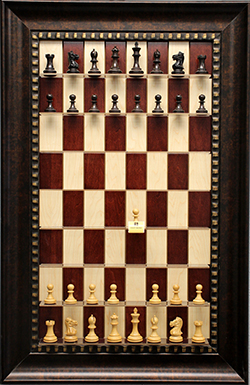 Straight Up Chess- Booth #541
Artisan Product Description

Vertical Chess Boards that hand on the wall like Art. As you pass by, make your move, mark it with the "Last Move" Marker and go on your way. Classy decoration for any office, game room, man cave, family room, hallway, bedroom, etc... I also make a wide selection of cribbage boards.

Is your product handmade by you?

I make everything except for most of the chess pieces. I do make two different designs of chess pieces.
My boards are one of kind and made so they will never warp or crack.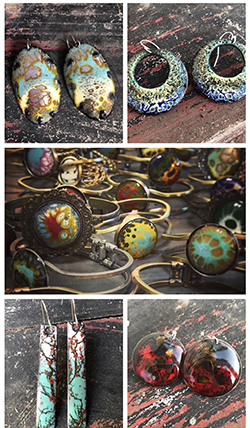 My Passio- Booth #634
Artisan Product Description
Dreaming in a vivid and fluid like rainbow of color has always been what my daydreams entail. When I discovered enamel (fusing of glass to metal under high heat) and the ability to place what was dancing around in my imagination into jewelry, my passion for color exploded onto the canvas of metal/jewelry. The fire breathing over the glass, onto the metal and watching them become one, had me hooked with the purchase of my first torch. Eventually graduating to a kiln. After thousands of pieces and hours spent in my studio, I am still mesmerized each time I open the kiln door and see the different color combinations that are brought to life. Each piece is fired at a minimum of 1450 degrees and placed in the kiln 5 to 7 times to achieve the layers of color combinations I am trying to master. Fire can sometimes be unpredictable and in those moments of uncertainty, "Happy Accidents" sometimes occur, these piece seem to become my favorites.
My Passio (Latin); the feeling of intense enthusiasm towards or compelling desire for something
Is your product handmade by you?
Yes. I work out of my home studio located in my Pleasant Hill. 95% of all of the pieces you see have been hand cut from sheet copper. Once cleaned, shaped & formed multiple layers of enamel are sifted on separately then fired in my kiln that I have respectfully named Firery Fern. All of my ear wires are sterling silver. Chains & cuffs are a combination of sterling, copper & brass.
My art/jewelry is one-of-a-kind piece that can be fascinating and sometimes mesmerizing to gaze at. I've found that I cannot recreate a twin item no matter how hard I try. Color combinations & similarities yes, but never 2 of a kind.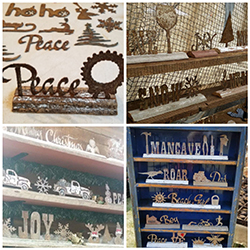 Caryville Country- Booth #632
Artisan Product Description
We offer the experience of designing and creating your own gifts and keepsakes with our storyboards and rusty metal line. Our family run business creates storyboard holders from reclaimed batten boards from barns that have been reclaimed in Iowa and surrounding states. The storyboard holders can be used to hold pictures, business cards, invitations, flash cards, holiday cards, our rusty metal line and more! The rusty metal line consist of around a thousand shapes and letters designed and laser cut. The metal pieces are free standing so they can be switched out throughout the year for every season, holiday and special moment. There are thousands of possibilities for building your own unique creations!
Is your product handmade by you?
The storyboards are made in New Virginia Iowa by hubby Mike. The metal is currently a mixture of ones made by our son Travis and a friend. We started switching over to designing and cutting our own metal this year. The old vintage flash cards we love incorporating in with the storyboard designs are dated from 1928-1970's. We choose not to re-create these flash cards as we love the fact that they are original pieces that were actually used in schools from days gone by. All items are made in America!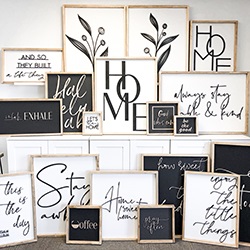 Ann Marie & Co- Booth #539
Artisan Product Description
Laser cut handmade signs and decor.
Is your product handmade by you?
Yes! We are located in Altoona, IA
Each piece is unique and can't be bought anywhere but our website or craft shows. The laser cutting adds a three dimensional look that makes it really stand out!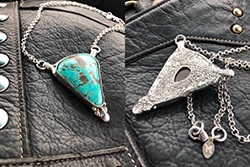 Local Chic- Booth #626
Artisan Product Description
Handcrafted Jewelry and Metal Giftware
Is your product handmade by you?
Yes we are a family of metalsmiths!
Lost Wax Casting and Hammered Metal all made in Iowa USA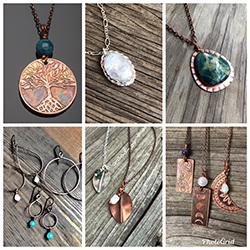 Artisan Jewelry by Erica Gooding- Booth #638
Artisan Product Description
My love of gemstones has been a part of who I am for as long as I can remember. I have always been intrigued by their holistic properties and folklore of their magic. I began creating jewelry using strung gemstones over 20 years ago, then began to learn metal work. Eventually pairing the two, I have been creating metal and gemstone jewelry for over decade.
Is your product handmade by you?
Absolutely! In my Iowa City studio I use many methods to create jewelry including acid etching, stone setting and soldering. I utilize a blow torch and hammers to fold form. Working with copper and sterling I create jewelry within a broad price range, so my work is accessible to many buyers. My creative style is clean and elegant. I want people to wear my work for any occasion and feel beautiful in it.
Every piece I create is made by hand making each piece individual and unique.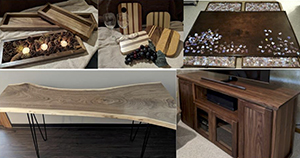 Northern Moon Woodworking- Booth #636
Artisan Product Description
I am passionate about creating beautiful items through the medium of wood. My interest in woodworking started in high school and became a fully developed hobby six years ago. With the encouragement of my wife, it has recently led to a career as a master cabinet maker. My journey as a woodworker has provided me the ability to create something from a vision and understanding of the wood. I'm proud of my attention to detail and the ability to create custom products. Each piece is created with passion, focus and a desire to learn something new. The pieces for sale here are all results of this journey I'm on. It is my hope that when one of these items ends up in your home, it will bring you cherished enjoyment.
Is your product handmade by you?
All of my products are handmade by me in our home woodworking shop located in Shoreview, Minnesota.
Each unique item is made from high-quality reclaimed or hard woods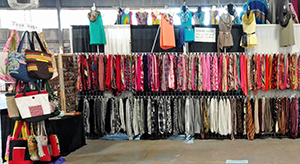 Totes and Treasures- Booth #644
Artisan Product Description
Scarves, Infinity, straight and sash scarf/belt. Ladies Shrugs High Quality Tote Bags for travel, career and daily life use. Pendants for scarves, tote bags, purses, and necklaces.
Is your product handmade by you?

The shrugs are made for me. I make all of the other products. I live in Omaha Nebraska and all the products are made in my home.
I choose the highest quality fabrics for my products, by working with several top line wholesalers. The Scarves are made from a variety of fabrics, but all need to drape nicely. They accessorize and outfit, not overwhelming it. The sashes are a dual purpose product that can be worn as a scarf/necklace or as a belt. the pendant and beading are included in the product. My tote bags are made from home decorator fabric, making them more durable and long lasting than bags that are generally made of cotton. They are made to meet all of your needs, with 2 outside and 6 inside pockets, a key fob and both button and zipper closure. Great for airline travel, career carryall or daily life bag for going from church to the dry cleaners! The Pendants can be used with the scarves, sashes and the tote bags. They can also be attached to a purse, rear view mirror or worn on a chain as a necklace. The shrugs add a festive touch of Bling to any outfit from a tank top to a holiday dress.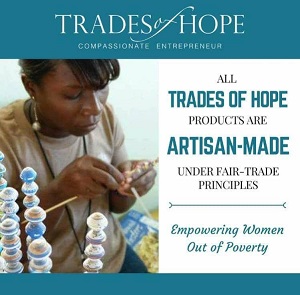 Trades of Hope- Booth #646
Artisan Product Description
Handmade jewelry, journals, scarves, home decor & more, made by artisans around the world through dignified partnerships to end extreme poverty and human trafficking.
Is your product handmade by you?
No, it is not made by me. We partner with artisans from 16 countries around the world, including the United States.
Our partnership exists to help mothers keep their children, protect them and provide for a brighter future. Our artisan partners are paid 100% of their asking price for their products, up front, which is usually 3 to 6 times more than the normal wage for their countries. Our products are ethically crafted and unique to their region. Each purchase works towards ending poverty and human trafficking. Trades of Hope is also a member of the Fair Trade Federation and takes those principals very seriously with our partnerships.