SOCIAL MEDIA
Connect with us!

• Twitter: @DSMHolidayShow
• Instagram: @HolidayBoutiqueShows
• Facebook: @HolidayBoutique
• Hashtags: #HolidayBoutique #DSMHolidayShow


Promote the show and YOURSELF on social media.


Facebook Event

We'd prefer if exhibitors did not make their own Facebook Event, but we'd love if you joined ours! We can make you a co-host, so our Facebook Event will appear on your Facebook Page. You can also share the Facebook Event regularly. You can post show specials and business information in our Facebook Event regularly. It's the best place to connect with our attendees prior to, during and after the show. Visit our Facebook Event for 2019 and mark yourself as attending! Also, feel free to connect with your Sales Rep so you can be added as a Facebook Event co-host.

In addition to using our Facebook Event to your advantage, consider submitting an Exhibitor Spotlight. We'll use your answers to create a blog that will appear on our show website, and be shared on Twitter and in the Facebook Event. Fill out the Exhibitor Spotlight form.

Share this image on social to let people know that you will be an exhibitor at the Des Moines Holiday Boutique!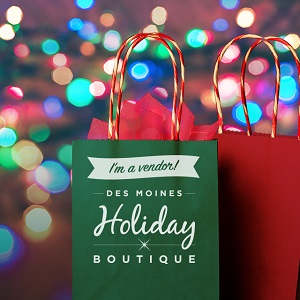 Iowa Events Center Ordering Services
Click Here for the Iowa Events Center order forms. Coming Soon!
To order Electrical, Phone and Wifi Orders
Advanced Pricing is available until Wednesday, October 16th
Modern Expo- Show Decorator

Click Here for Modern Expo's order forms. Coming Soon!
To order furniture, flooring, etc
IMPORTANT DOCUMENTS
Click Here
for Information on Storage Rental at the show
IMPORTANT FORMS - FOOD SERVICE
CERTIFICATE OF INSURANCE

All exhibitors are required to carry Commercial General Liability Insurance with limits of $1m per occurrence/$2m aggregate. Completed forms can be sent to Andreaa@mpeshows.com

If you have your own insurance, please ask your insurance company to issue a Certificate of Insurance listing
Certificate Holder
Marketplace Events LLC
31105 Bainbridge Rd., #3
Solon, OH 44139
Additional insured should be listed as Marketplace Events LLC.


If you do not have insurance – you can purchase online at http://buttineexhibitors.virtualmga.com cost is $65 per exhibitor/per event. After completing the online application, you can make your payment with Visa or MasterCard and receive a copy of the certificate by email within minutes.


For more information please contact:
Kendra Reilly Monahan, Account Manager
Commercial
Buttine Insurance, a division of Risk Strategies Company
E: kar@buttine.com
A: 420 Lexington Avenue - Suite 2700, New York, NY 10170
P: 212-867-3642
W: www.risk-strategies.com
Move-In:

Wednesday November 4th, 2020 Noon- 8pm.
Thursday November 5th, 2020 8am- 8pm.
All exhibitors will be able to drive up to the loading dock doors and unload onto carts provided by you, from the roll-up door entrance located off 4th and Park Street. Once your vehicle has been unloaded it will need to be moved to the north parking lot located at 5th and Crocker. A limited number of carts will be available, so please bring your own carts as this will help greatly to expedite your move-in and avoid wait times. You are responsible to load your own carts.

2020 SHOW DATES & HOURS:

Friday, November 6, 2020 10:00 a.m.- 9:00 p.m.
Saturday, November 7, 2020 10:00 a.m.- 8:00 p.m.
Sunday, November 8, 2020 10:00 a.m. - 5:00 p.m.
Move Out:
Sunday Nov. 8th, 2020 5:01pm- 10pm
Monday Nov. 9th, 2020 7am- 11am
No exhibits can be taken down or removed, even in part, until show closing is announced on Sunday, November 8th at 5:01pm.
All exhibitors must be out of the Iowa Events Center by 11am, Monday, November 9th, 2020!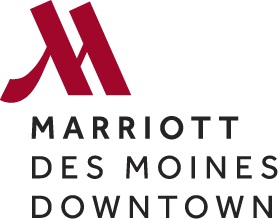 Marriott Downtown (1/2 mile)
700 Grand Avenue
Des Moines, IA 50309
515-245-5500 or
800-228-9290
SALE OF MERCHANDISE AT THE SHOW