Shannon Nathe
Show Manager
Phone: 515.244.5456
Email: ShannonN@mpeshows.com
Shannon was born and raised in Minnesota, but moved to Des Moines six years ago to be in the city where she is the Show Manager for two of Downtown Des Moines' favorite consumer home shows. Her husband Pat owns his own business in Des Moines. In her free time, Shannon enjoys shopping local boutiques, taking walks, and hanging out with her Grandson.
Des Moines and the surrounding communities have so much to offer, from the Farmers Market, to the Iowa State Fair. It is a great place to live!"
Get A Booth Quote
Tasha Mart
Exhibit Sales Consultant
Phone: 515.244.1459
Email: TashaM@mpeshows.com
Tasha was born and raised in Des Moines and is an Iowa State alum (Go Cyclones). She lives in West Des Moines where her daughter attends school at Brookview Elementary and where she also enjoys the role of Homeroom Mom. In her free time, Tasha enjoys being with her family and friends, is an active member at Lutheran Church of Hope, loves to cook, and when the weather is nice, go for runs around Grays Lake.
"The thing about Des Moines that I love the most is the true sense of community. You can't go anywhere without seeing a familiar face, and there is always something fun to do. That is why I am so proud to be a part of some of our community's most popular events each spring."
Get A Booth Quote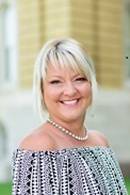 Andrea Acebey
SHOW|OFFICE ADMINISTRATOR / Operations Coordinator
Phone: 515-244-6891
Email: AndreaA@MPEshows.com
Andrea was born in Dubuque, Iowa. By the time she was 8 she had lived in Iowa, Wisconsin, Texas, Louisiana, and then back to West Des Moines, Iowa, and now Urbandale where she now resides. She has a wonderful husband who is very busy with all things soccer! He is the Head Coach for Waukee High School Boys Soccer, where they just brought home their second State Champs Title. He also is the Executive Director of Vision Soccer Academy in Waukee. In addition she has three adveturous children that keep her very busy with soccer and basketball. In her free time she loves to travel, entertain, and spend time with friends and family.
"Des Moines is changing every day. It is so much fun to see the growth in our community. What I love the most is the compassion of Iowans and the core family values. It makes my heart happy!
For media inquiries, please contact:
Ted Wick, Consumer Marketing Manager, TedW@mpeshows.com