Find One-of-a-Kind Gifts at Artisan Avenue
There are so many exciting vendors to explore at the 2018 Des Moines Holiday Boutique; but there's one corner of the show that you for sure don't want to miss! Artisan Avenue will feature beautiful gifts that are all custom and handmade. Located in the Ballroom, this section of the Holiday Boutique is the perfect place to shop authentic, one-of-a-kind pieces for you and your friends this holiday season.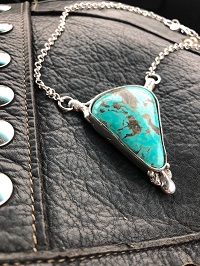 Here are a few of the artisan vendors and some of the handmade products you can find on Artisan Avenue from Nov. 2-4 at the Iowa Events Center:
Local Chic – This family makes one-of-a-kind jewelry through pure metals and quality gems from Tucson.
Rare Creations by S&R – Roxanna Ruth begin making vintage Santas in 2000, constructed on a sturdy wood base and decorated with furs, ornaments, etc.
Boot Gypsy – All the handcrafted leader goods you could want, including purses, wristlets, wallets, earrings, bracelets and more.
Little Bud Baby Designs – Take home a handmade or custom-made blanket, bib, shirt, or cloth designed for babies and toddlers.
Artisan Jewelry by Erica Gooding – Combining their love of gemstones and metal, this artisan sells handmade jewelry.
Metal Rocks by Paul – Paul makes metal year art using recycled silverware, glassware and other metal items.
Hollow Hill Designs – This family-run business sells sculptures and art made of sheet steel, old farm equipment, garden tools, and more!
Sapahn Omega Leather Collection – Leather bag collections from Sapahm Omega are designed and ethically sources by women in central Thailand who earn a fair wage and are able to achieve financial independence through your purchases!
Small Town Gems – One-of-a-kind custom earrings, bracelets, necklaces and rings made with real fire bullet casings.
Art by Monica – Unique abstract artwork from various mediums, such as ink and acrylics.
Sugar Lane Soap – Angela makes small batch, artisan, eco-friendly soaps and body products made with high quality ingredients.
Suezee Soaps Etc. – All-natural laundry soaps, bath soaps, body lotions, scrubs balms and oils with no filler or harsh chemicals.
Randol Honey Farm – Made from raw unpasteurized honey, this vendor sells a wide variety of honey and wax products, such as gourmet honey, beeswax lotion bars, honey lotions and lip balms, as well as beer breads, wine slushy mixes and other gourmet mixes.
Redhead Ceramics – Thrown art vessels that are hand carved and hand painted with horse hair raku.
Alikasam Creations – This Kansas City company makes candles, glasses, lights, birdfeeders and more from recycled and reused materials.

Don't miss these artisan products and more at the Des Moines Holiday Boutique from November 2-4 at the Iowa Events Center! Tickets are $12 at the door, $10 online and free for children ages 12 and under.
Nov 1, 2018, 14:05 PM