Winter Warmth Drive
The Des Moines Holiday Boutique is excited to provide quality gifts and products to all of its visitors from November 2-4, but they are also excited to give back to the community in other ways, as well.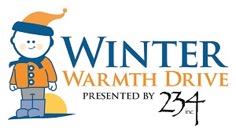 The Des Moines Holiday Boutique is partnering with the student-run Winter Warmth Drive to collect new or gently used:
- Coats
- Hats
- Gloves
- Blankets
- Scarves
- Snow boots
- Snow pants
Since 2008, the Winter Warmth Drive has brought students together from around the metro to collaborate in Iowa's largest youth run community service project. Students from 46 schools helped to collect over 10,000 winter outerwear items in 2017 over a two-week period. These clothing items were then provided to over 40 local agencies that work with the homeless or near homeless, and schools around the metro. This effort not only serves as a means to provide needed winter items, but also provides the opportunity for students to work on their marketing, advertising, project management, team building, organization and public speaking skills sets – all which will be needed as they move through life.
If you have extra winter outerwear laying around or old pieces that might be too small, bring them to the Iowa Events Center from November 2-4 and drop them off in the bin at the entrance to the 2018 Holiday Boutique.
Tis the season of giving, so why not give one more gift as you are stocking up on products and presents at the Des Moines Holiday Boutique? Give the gift of warmth with the Winter Warmth Drive!
The Des Moines Holiday Boutique will be taking over the Iowa Events Center from November 2-4, 2018. Start the holiday season off right and check out the amazing show. Get your tickets NOW!
Oct 31, 2018, 20:09 PM