Survival Guide: How to Prepare for the Des Moines Holiday Boutique
Shopping is fun, right? But it can also be a little overwhelming when you are walking by hundreds of exhibitors! That's exactly what you'll experience at the Des Moines Holiday Boutique is kicking off its second year and runs November 2-4, 2018, at the Iowa Events Center.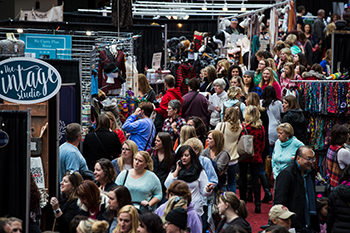 We're here to give you a few tips to make sure you have the best shopping experience. Because that's what this event is all about—creating a fun experience that you can enjoy with your friends or family!
Wear comfortable shoes
Since there are so many different exhibitors to check out, you'll want to be ready to get your steps in and scour the entire site. And since you'll likely make a couple rounds, you'll want to make sure your comfort isn't compromised.
Think about your shopping list
It might be helpful to plan ahead and create a list of people that you need to get gifts for this holiday season. Whether you are shopping for your mom, sister, friend, teachers—or even yourself. There will be plenty of unique finds that the recipient will be thrilled to get.
Bring some buddies
Take advantage of a night out! With Friday being Girls' Night and then Saturday Night Out, it will be a fun experience for all attendees! Both nights will have music from 5 to 9 p.m. along with drinks and of course, shopping.
Take a look at the exhibitors ahead of time
The Des Moines Holiday Boutique website has a list of participating exhibitors, so you can check it out before you come. Or you can be surprised when you show up, either way you won't be disappointed!
Don't forget about yourself
Sure it's almost the holiday season and you are probably focused on everyone else, but don't forget to treat yourself!
Holiday shopping can be stressful, but with the Des Moines Holiday Boutique, you can start checking off items on your list all in one spot.
When will it be taking place?
Friday, November 2, 2018: 10 a.m.– 9 p.m.
Saturday, November 3, 2018: 10 a.m. – 9 p.m.
Sunday, November 4, 2018: 10 a.m. – 5 p.m.
The Des Moines Holiday Boutique will be taking over the Iowa Events Center from November 2-4, 2018. Start the holiday season off right and check out the amazing show. Get your tickets NOW!
Oct 26, 2018, 14:17 PM