Get to Know Madcap Cottage's John and Jason
Interior design pair John Loecke and Jason Oliver Nixon are the duo behind High Point, North Carolina- and New York-based interior design firm Madcap Cottage. Known for their passion for prints and pattern, the Madcap gents—along with their pound-rescue posse, Jasper, Weenie, and Amy Petunia—scour the world for eclectic finds that capture their unique viewpoint. Imagine a British country house that pairs centuries-old antiques and a spirited dash of Chinoiserie chic with a splash of Morocco-meets-India élan. Want to know more?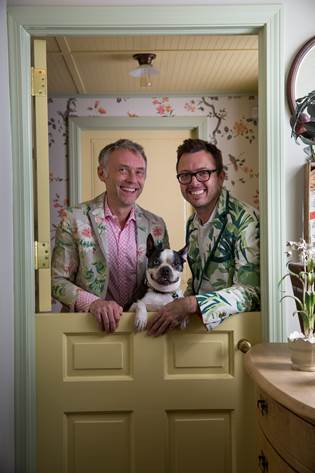 Q. What's a simple upgrade homeowners can tackle that'll go a long way?
A. Paint your front door a bright color. A welcoming entrance sets the tone for a home and is a quick and easy weekend project. Brown, black, and white doors are expected and found everywhere. Why not go for a rich green, perky persimmon, or a punchy pink. Stand out in the crowd. After all, no one remembers the shrinking violets.
Q. What was the last picture you took with your phone?
A. The Madcap gents are obsessed with Instagram, so we are constantly composing images and videos that tell a story and offer engagement and experience. We just snapped a photo of a contrast trim upon an ottoman to show our followers that details can take the mundane and make it marvelous.
Q. Favorite easy DIY project?
A. Add plug-in dimmer switches to your table lamps. Dim lights can make a tired room look tip, top, terrific. And buy a wireless speaker system: Good music and dim lighting can mask many, many faults.
Q. What's one thing we wouldn't guess about you?
A. John and I love Cracker Barrel and traveling on long road trips across the country with our three pound-rescue pups.
Q. What's the biggest home improvement DIY fail you've seen?
A. We don't believe in "fails," there are no rules in interior design. There was an early home show on HGTV that featured designers who seemed to want to shock the homeowners. Hay on the walls and silk flowers stapled all over a ceiling just aren't our thing. As mother always said, Keep it simple, stupid.
Q. Fill in the blank: On my days off you can usually find me ___________.
A. You can find us in the garden with the dogs scampering about and dirt under our fingernails.
Q. What's a must-have at any party you're throwing?
A. A great play list on Spotify and rosé wine.
Q. What project have you been most proud to work on?
A. We love making our clients' lives better, so every design project—from big to small—keeps us motivated. We have done some wonderful showhouses that benefited charities, and it's always great to give back. And all of our product lines are widely accessible and very affordable, and that's what we believe good design should be. Seeing someone enjoying our Madcap Cottage-branded products makes us giddy.
Q. Where do you go online to find inspiration?
A. Instagram.
Q. What's one thing you wish every homeowner knew?
A. The value of home economic classes back in the day. And how to change a light fixture.
Q. You can trade places with one person for the next 24 hours. Who do you pick and why
A. Martha Stewart. She is a sponge who has spent her life learning. And she runs incredibly organized households, I'd love to see what it takes to keep things running so beautifully.
Q. What's something that folks should watch out for when working with a contractor or interior designer?
A. Educate yourself before hiring someone so you understand how these services work, both on the design front and on the business side.
Q. What's the most useful product a homeowner can spend $100 or less on?
A. Switch out your throw pillows.
Q. What should homeowners splurge on? Is it necessary to get a custom couch or can your money be better spent?
A. It's all about making smart investments, and that's why you hire an interior designer to guide your decisions. With that said, Buy quality and you only cry once.
Q. You have to get a tattoo of your last text message – what does it say?
A. We would never, ever get a tattoo. We don't believe in permanence. Rather, we would change our hair color for a quick fix that would soon grow out.
Q. What's your favorite place to shop for home décor? Is there a hidden gem most people don't know about?
A. We love consignment shops. And we have several great upholsterers and furniture repair folks on speed dial.
Q. What's one aspect of home improvement or design that isn't as complicated or difficult as people think it is?
A. Most folks buy the beige and boring. Go for prints, pattern, and color. You only live once, why be boring?
Q. Which HGTV / DIY Network star would you most like to work with and why?
A. We have not watched either in years. We think that these channels have created the myth that rooms can be transformed in 24 hours for no money.
Q. Do you prefer bright colors or bright patterns?
A. Both.
Q. You've been interviewed many times. What is the one question you always wish someone would ask?
A. What's our house cocktail recipe.
Q. If there is anything else you'd like to promote or highlight please include this as well (anecdotes, recipes, style advice, blogs/websites, etc.).
A. At Madcap Cottage we believe decorating should be fun, and never grim and glum. It should be an adventure—one whose end result is rooms that burst with personality and that put a smile upon your face the moment you step through the front door. And the key to crafting this décor-driven bliss is patterns, friends, patterns. Forget white walls and neutral furnishings. It's time to dream big, and transform your home with the wonders of pattern!
Hence, our new design book from Abrams, "Prints Charming: Create Absolutely Beautiful Interiors with Prints & Patterns," that debuts in October. Each of the chapters in this book is a space—a home or apartment—that we designed, so the book's photo shoots had us hopping between interiors that we had crafted in New York City, Iowa, Florida, upstate New York, and our hometown of High Point, North Carolina. And then it was back to NYC. We live in North Carolina, but we are lucky enough to work all over the world, from New Orleans to London, the Hamptons, and our own backyard, High Point's historic Emerywood neighborhood.
We were inspired to pen this colorful tome not because we harbored illusions of crafting a New York Times bestseller, but rather because folks like you have always found pattern a tad perplexing.
Madcap Cottage presents on Friday at 3 p.m.; Saturday at Noon and 2 p.m., and Sunday at 1 p.m. on the Main Stage. You can pick up their book, "Prints Charming: Create Absolutely Beautiful Interiors with Prints & Patterns," that debuts in October 2017 from Abrams.
The Des Moines Holiday Boutique will be taking over the Iowa Events Center from November 3rd-5th, 2017. Start the holiday season off right and check out the amazing show.
Get your tickets NOW!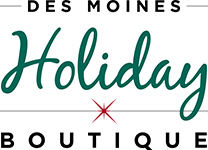 IOWA EVENTS CENTER

NOVEMBER 3rd-5th, 2017.
Nov 2, 2017, 13:15 PM