EXHIBITOR KIT

CLICK HERE for the Exhibitor Kit - PLEASE READ!!

Everything you need to "know before the show."
Iowa Events Center Ordering Services
Click Here for the Iowa Events Center order forms.
To order Electrical, Phone and Wifi Orders
Advanced Pricing is available until Wednesday, October 16th
Modern Expo- Show Decorator

Click Here for Modern Expo's order forms.
To order furniture, flooring, etc
2019 SHOW DATES & HOURS:

Friday, November 1, 2019 10:00 a.m.- 9:00 p.m.
Saturday, November 2, 2019 10:00 a.m.- 9:00 p.m.
Sunday, November 3, 2019 10:00 a.m. - 5:00 p.m.
Move Out:
Sunday Nov. 3rd, 2019 5:01pm- 10pm
Monday Nov. 4th, 2019 7am- 11am
No exhibits can be taken down or removed, even in part, until show closing is announced on Sunday, November 3rd at 5:01pm.
All exhibitors must be out of the Iowa Events Center by 11am, Monday, November 4, 2019!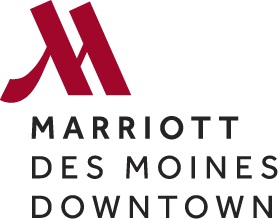 Marriott Downtown (1/2 mile)
700 Grand Avenue
Des Moines, IA 50309
515-245-5500 or
800-228-9290
Discounted Rate $102 per night + taxes. Call to reserve your room or click on link below!
Mention Marketplace Events Des Moines 2019 Holiday Boutique to receive group rate
Offer expires October 16, 2019
Click Here
to Book your group rate for the Des Moines Holiday Boutique
SALE OF MERCHANDISE AT THE SHOW
Beginning July 1, 2016, the State of Iowa will NO longer provide temporary sales tax permits. Exhibitors will be required to obtain their own permanent tax permit by going tohttps://tax.iowa.gov/sales-tax-and-special-events-temporary-permits
You MUST obtain your permanent permit prior to the event. You are able to charge and collect tax as soon as you submit an application, even if you have not yet been issued a permit number. If you are required to have a state sales tax permit and you make taxable retail sales in Des Moines, you will also need a Des Moines permit. If you have questions regarding State of Iowa sales tax permits, contact Taxpayer Services at (515) 281-3114 or idr@iowa.gov.